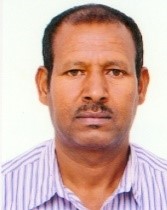 Efrem Ghebremeskel Habteyohannes- is HORN-Eritrea-Brucellosis Project Research Team Leader.  Currently, he is director of the National Animal and plant Health Laboratory (NAPHL), Ministry of Agriculture, Asmara, Eritrea. Educationally, he obtained MSc. in food Microbiology, BSc. Honour degree in Food Sciences, and BSc. Degree in Microbiology from the University of Orange Free State, Bloemfontein, Republic of South Africa, and Diploma Certificate in Veterinary Sciences from Addis Ababa University, College of Veterinary Medicine and Agriculture (AAU-CVMA), Debrezeit, Ethiopia. Besides, he is pursuing his PhD study at the AAU-CVMA-Veterinary Public Health (VPH) Department, Bishoftu, Ethiopia.
Through educational qualification and extended work experience, his expertise covers multiple cross-cutting work areas including veterinary sciences, microbiology, food sciences, laboratory techniques and management skills broadly.
To this date, he has been worked in different work places and leadership positions including, as directory of National Veterinary and Plant Health laboratory (NAPHL), laboratory quality control unit head, veterinary drugs and biologics units head, food microbiology laboratory section head, veterinary clinic and meat inspection head and veterinary filed officer are some of the prominent tasks he was positioned. Apart from that, he worked as part time lecturer for five years at the Hamelmalo Agricultural College (HAC), Keren, Eritrea.
As the result of  enriched work experience and exposure, he has gained and accumulated ample theoretical and practical knowledge and skills in the areas of clinical animals' disease diagnosis, laboratory animal disease diagnosis, food quality control analysis, laboratory quality control and quality assurance system, developing laboratory related programs and projects, coordinating and managing laboratory activities and other relevant works.
Currently, as one of the HORN-Eritrea project beneficiary, he often receives and disseminates several valuable information and invitations notices released from the concerned HORN office, to many interested NAPHL and MoA staff. Hence contribute towards the national food security and safety through implementing and attaining the goals and objective of the HORN project in the country.