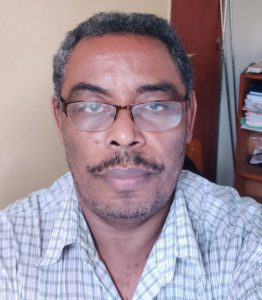 Fasil Tesema has a MSc. in Community Health and previously an Associate Professor of Biostatistics at Jimma University with teaching and research experience of more than 30 years. Fasil is an Author and co-author of more than 50 peer reviewed articles in national and international journals.  Fasil's research areas of interest are Maternal and child health, Chronic and non-communicable diseases, Mental health, Food security and nutrition and population dynamics. He is a  PI and Co-PI of different research and training projects funded by local and external funding organizations and Universities. Recently, Fasil was collaborating with people working on One Health related activities.
In addition to delivering Biostatistics and Application software courses and advising MPH students at Jimma University, conducted and facilitated repeated research methodology trainings to staffs and members of different organizations and longitudinal data management training using STATA for surveillance team members of HDSS site in Ethiopia.
From April 2016 to March 2017, Fasil served as consultant in Operational Research on Immunization and undertook Evaluation of new born pilot project in Somali region, Ethiopia. Similarly, he conducted Mid-term evaluation of Immunization Project in seven zones found in of five regions in Ethiopia for 10K project, JSI.  In addition, Fasil lead and conducted final evaluation of the Polio Project in Pastoral and Semi-Pastoral Regions of Ethiopia for World Vision.