Profile
Dinka Ayana is a veterinary epidemiologist by training. He did his DVM and specialisation at the faculty of Veterinary Medicine of Addis Ababa University (AAU) and has served in the Ministry of Agriculture of Ethiopia as team leader.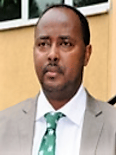 He was employed by Jimma University, Ethiopia, with the rank of Assistant Professor and delivered veterinary pathology to undergraduate students for a semester. Dinka then joined the faculty of Veterinary Medicine (now college of Veterinary Medicine and Agriculture) at AAU, serving the college at different levels: department head, Associate Dean of the college. Currently, Dinka has been serving as the Dean of the college since 2013.
Promoted to the rank of Associate Professor within five years, Dinka has published 63 articles in reputable journals, both locally and internationally. His research focuses primarily on epidemiology of parasitic zoonosis (Cryptosporidium, Giardia, Eimeria, Isospora and etc.) and parasites of economic importance, including Fasciolosis in Ethiopia.
Since leaving the HORN project, Dinka is engaged in teaching both undergraduate and postgraduate students of the college. Currently he advises two MSc students, one PhD student and three DVM students. He is also actively involved in various research projects as Principal investigator and co-investigator.