Profile
Dr Kennedy Mochabo undertook his undergraduate degree in Bachelor of Veterinary Medicine at the University of Nairobi, Kenya, and graduated in 1998. In 2000, he was awarded a University of Nairobi scholarship to pursue postgraduate studies in Veterinary Epidemiology and Economics and successfully completed this 2004. Courtesy of a Government of Japan scholarship, he attended Obihiro University of Agriculture and Veterinary Medicine, Japan; based at the National Research Centre for Protozoan Diseases, he obtained a PhD degree in Molecular Epidemiology in 2014.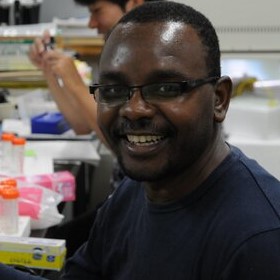 Kennedy has been a lecturer of Veterinary Public Health, Epidemiology and Economics at Egerton University, Kenya (where he is currently pursuing a MBA on a part-time basis); a Research Scientist and Acting Head of Epidemiology, Environment and Socio-economics Division at the Kenya Agricultural and Livestock Research Organization; and has worked briefly for an international NGO as a Programmes Support Officer for European Union-funded projects where he was primarily involved in monitoring, evaluation and ensuring internal reporting to the donors.
He has attended a number of local and international conferences; attended various workshops on scholarly publishing and train-the-trainer on scientific writing; has published a number of papers in peer-reviewed journals; and he has examined six MSc theses as an External Examiner of the University of Nairobi. I addition, Kennedy is a reviewer for the National Research Funded Projects of Kenya and a collaborator in one funded project.
A strong team player with exceptional logistics and organisational skills, Kennedy is versatile, dynamic and able to work under pressure to deliver results; a self-starter who is able to prioritise tasks, Kennedy can produce high quality work with minimum or no supervision.
Since leaving the HORN project, Kennedy has now returned to his former position of lecturer of Veterinary Public Health, Epidemiology and Economics at Egerton University. He has reverted to his teaching and supervision of both undergraduate and graduate students in addition to undertaking research activities which core mandate Egerton University.