Profile 
Olivia Howland is an ethnographer and anthropologist, particularly interested in applying Intersectional Marxist Feminist theoretical frameworks to rural Kenyan and East African contexts.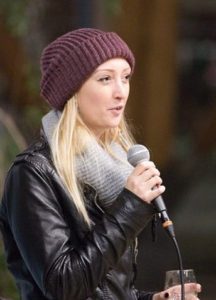 Olivia studied for her BA in Anthropology and MSc in Development Anthropology at Durham University in the UK, with supervision from Dr Ben Campbell.  Her PhD, an ethnographic study of homebrew in Kenya, was written at Liverpool John Moores University under the supervision of Dr Conan Leavey.  The thesis examined how macro level policy and anti-substance use socialisation, when combined with chronic levels of rural poverty, can lead to toxic masculinity and in turn, dangerous levels of alcohol consumption.  In tension with this is the considerable benefit the brewing and selling alcohol brings to women, leading to financial independence, increased agency, and empowerment.  However, levels of inter-partner violence remain high and physical, mental and sexual abuse of women and children was common in this fragile economic environment and liminal, marginalised subculture.
Following completion of her PhD, from which she graduated in 2016, Olivia joined the University of Manchester as a postdoctoral research assistant.  The project, Longterm Livelihood Change in Tanzania, subsequently moved to SIID at the University of Sheffield.  This project is headed by Professor Dan Brockington, with support and collaboration from colleagues from other global institutions including DIIS (Danish Institute for International Studies), University of Stockholm, University of Dar es Salaam and Sokoine University of Agriculture, and a number of others.  The project looked at asset ownership over a period of 20+ years in more than 60 rural and semi-rural Tanzanian villages.
In March 2018 Olivia started working as a postdoctoral research associate on the HORN Project, for the University of Liverpool, and as a Visiting Scientist at ILRI in Nairobi.  Her research interests will be part of the One Heath framework, looking at women as custodians of traditional medical knowledge for both livestock and humans, and she will be available to provide ethnographic methodological training for other researchers.
Select publication(s)