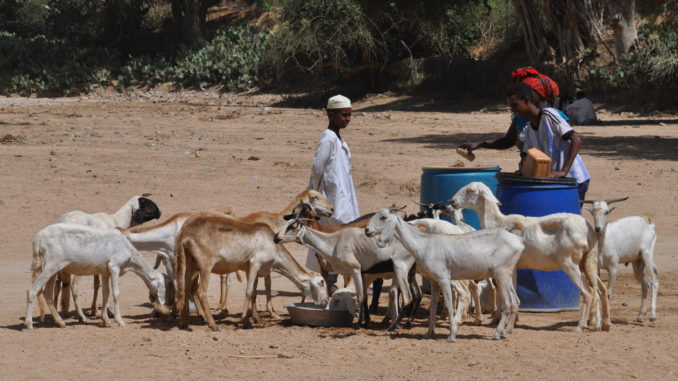 By Keith Dobney
Professor Keith Dobney spent three days in Addis Ababa at the beginning of March meeting colleagues from ILRI and the National Museum of Ethiopia to discuss some of the proposed HORN ancient biomolecules initiatives being planned in the country. He was joined by Professor Ian Barnes, head of the new ancient DNA facility at the Natural History Museum, London, who kindly agreed to lend his advice and expertise in this area.
An all-day meeting was held on the 4th March at the ILRI campus to formulate a joint research project on modern and ancient goat genomics. The meeting was attended by HORN PDRA Dr Ophelie Lebrasseur, Prof Olivier Hanotte (Principal Scientist for the Animal Biosciences Program at ILRI) and Shumuye Teklebrhan (new PhD student at Addis Ababa University). The project aims to explore the genetic diversity of so-called 'indigenous' goat breeds from Northern Ethiopia – particularly those from the border regions of Tigray, Amhara and Afar – in order to explore their genetic heritage and possible origins. The possibility of providing bespoke bioinformatics training courses for colleagues at ILRI and Addis Ababa University was also discussed and agreed.
On the following day we met with Solomon Kebede (interim Director of the National Museum of Ethiopia) and Sahale Melaku (Curator of Prehistoric Archaeology) to discuss possible ways HORN could support future capacity building. It was agreed HORN would support an information gathering trip by museum curators and technicians to the National Museums of Scotland and Natural History Museum in London to learn more about skeletal preparation facilities and comparative collection curation – an area the National Museum of Ethiopia is trying to develop. It was also agreed that HORN would sponsor a future stakeholder's workshop, the aim of which would be to explore the feasibility of establishing a sustainable ancient biomolecules research facility at the museum. This would be a vehicle for training Ethiopian scientists in this fast-moving scientific discipline, would stimulate international scientists to base such work in the country and would ensure that Ethiopia's unique bio-cultural heritage would be analysed and studied 'in-house'.
Establishing long term and respectful collaborations with colleagues at the National Museum in Addis Ababa is central to being able to deliver the core temporal aspects of the archaeology component of HORN – i.e. exploring human-animal relationships linked with heath in the past. As a numismatist, however, Solomon Kebede has research interests that are far from those of HORN – i.e. he studies the coins (and their inscriptions) of the Axumite empire. As fate would have it, one of our colleagues (Dr Matthew Ponting) in the Department of Archaeology, Classics and Egyptology at the University of Liverpool is also someone specialising in the coinage and metallurgy of the ancient world – with fancy analytical laboratories and equipment to match. Having put the two into contact, Solomon has developed a new research project (with Dr Ponting), and even decided to register for his PhD at Liverpool. An unintended, but happy, consequence of the HORN project network!