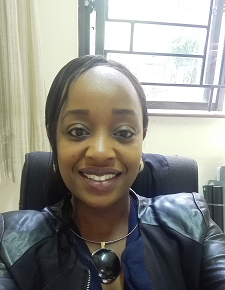 Linnet Wanjiru Mwangi has a Masters´ degree in Food Science from Egerton University Kenya, and is currently a PhD student in Food Science working on the diversity of Mycobacterium tuberculosis and Mycobacterium bovis strains and their antimicrobial resistance in camel milk. Her interest entails but is not limited to understanding the drivers of foodborne pathogens and their antimicrobial resistance in food systems.
She has previously worked as a part time assistant lecturer in various universities in Kenya teaching and supervising undergraduate students in food science related courses. She has worked in various projects as a research assistant. She has gained skills in microbial analysis of food samples, testing for antibiotics and chemical residues in milk, aflatoxin analysis, data analysis, report writing and organizing for workshops. She has worked as an administration assistant in a project called RELOAD (Reducing losses and adding value) which focused on reducing post-harvest losses and value addition along the dairy value chain.  As a research assistant and administration assistant, she was involved in operational and logistical operations which enabled her to collaborate with researchers from local and international organizations.
She is currently a One Health Research Fellow at the International Livestock Research Institute, Nairobi, Kenya under the human-animal health program. Her team is working on antimicrobial resistance associated with microbial and drug residue contamination in milk and child health implication in pastoral system in Kenya. She is also a research assistant in a project focusing on Increased stakeholder participation in enhancing food safety in the Camel milk value chain in Northern Kenya funded by Kenya Climate Smart Agriculture Project (World Bank). She also partially works as a research assistant in a project that is aiming at providing Climate Smart Agricultural Extension Services to Farmer Groups in Dairy and red meat (cattle) Value Chain in Kajiado County, Kenya, funded by Kenya Climate Smart Agriculture (World Bank).
Her career aspiration is to be a researcher in food safety and contribute to food and income security, good health, and wellbeing for the social-economic upgrading of farmers in Africa.