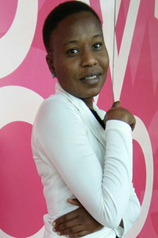 Lorren Alumasa is a trained Research Clinician with extensive experience in planning, coordination and facilitation of field Research Projects. She is a Research Associate with the Zoonotic and Emerging Diseases group under ILRI's Animal and Human Health (AHH) program where she works with a dedicated group of physicians, veterinarians, social scientists, ecologists and other relevant professionals to understand the dynamic aspects of One-Health in diverse rural and urban populations.
Lorren has been involved in various collaborative research projects including the People, Animals and their Zoonoses (PAZ) project, the Urban-Zoonosis project, the ZooLink Suite of projects and presently, the Urban Infant Foodscapes Project which seek to understand the epidemiology of emerging and re-emerging pathogens specifically Zoonoses in both human and animal populations, ultimately informing policy on appropriate disease control measures.
She has a Master of Public Health from the University of Liverpool and has lots of interest in Public Health epidemiology, One Health, Systematic Review methodology and Public Science communication to not only inform policy frameworks but also change in practice by end users.