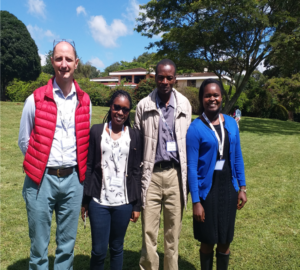 This study will be carried out in Laikipia County, county number 31 of the 47 counties of Kenya. Located on the equator, and with two major urban centres – Nanyuki and Nyahururu -, the county has a total population of 518,560 with an average household size of 3.4 persons and a population density of 54 people per square kilometre.
This study aims to investigate the relationships between health and nutritional outcomes in children under 5 years with dietary consumption patterns by households, and exploring associated risk practices along the tomato and dairy value chains.
Specifically, the study will i) analyse the relationship between types of diets (animal source foods and vegetables) and health and nutritional outcomes in children under five years in smallholder farming households ii) assess and map production and postharvest handling practices along the dairy and tomato value chains that may result in contamination of the milk and tomatoes and iii) screen for bacterial and chemical contaminants and antimicrobial resistance along the different nodes of the milk and tomato value chains.
A cross-sectional household survey will be conducted, anthropometric measurements of children below five years taken to assess nutritional status, samples of milk and tomatoes taken for chemical and microbial lab analysis, and qualitative data from Focus group discussions and Key informant interviews. We hope the findings of the study will inform policy on mitigation measures and create awareness on possible risk factors in production and post-harvest handling that lead to contamination of dairy and tomato along the value chain.
The study team is comprised of Food Technologist and Environmental Management specialist (Egerton University), Veterinary Public Health specialist and public health nutritionist (ILRI). This team is mentored by a multidisciplinary team composed of Public Health Pharmacologist (University of Nairobi), veterinary epidemiologists (UoL and ILRI), capacity development specialist (ILRI) and social scientists -Ethnography/Anthropology (ILR).