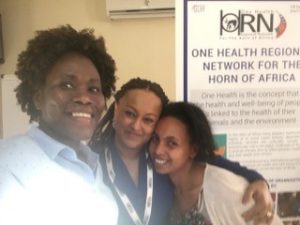 Epilepsy is one of the most common neurological diseases, which results in unprovoked repetitive seizures and other neurological sequelae. It affects more than 50 million people globally, mostly in Low and Middle-Income Countries (LMICs).
Epilepsy is caused by genetic and acquired conditions. Neurocysticercosis and toxoplasmosis are zoonotic infections associated with acquired epilepsy. Neurocysticercosis is estimated to contribute to 30% of acquired epilepsy in endemic areas. Both diseases have been documented in Busia county.
There are however, huge gaps in the way that epilepsy is managed in LMIC countries, including Kenya. About 70% of newly diagnosed children and adults with epilepsy can be successfully treated if properly diagnosed, but there is a lack of awareness about the disease and lack of accessible and affordable health care in the country, with huge treatment gaps, more so in rural areas like Busia county. In addition, stigma significantly affects the quality of life of People With Epilepsy (PWE) and their families, and it also carries a high socioeconomic burden. The epidemiology, societal impact, individual impact, and economic cost of epilepsy (due to whatever cause) is poorly understood.
Using a One Health approach, the study will assess people's knowledge and perceptions of epilepsy, and explore how epilepsy impacts on the social, economic, clinical, and environmental aspects of PWE; their families and the perceived causes; treatment gaps; the prevalence of seropositivity for Taenia solium and Toxoplasma gondii; and any risk factors associated with living with epilepsy and seropositivity for Taenia solium and Toxoplasma gondi.
We aim to:
Explore issues of stigma, knowledge, perceptions, and attitudes about epilepsy and access to healthcare services experienced by people with epilepsy
Identify gaps in the diagnosis and treatment of epilepsy
Identify patient-centric understanding of the causation of epilepsy
Assess contact with animals as a risk factor for acquired epilepsy
Identify clinical, zoonotic and environmental risk factors associated with acquired epilepsy and seropositivity for Taenia solium and Toxoplasma gondi.
The study aims to improve understandings of epilepsy, how it affects PWE and their families, identify risk factors and gaps in epilepsy management, increase awareness in order to inform allocation of resources for epilepsy, and improve the health and well being of PWE and their families.