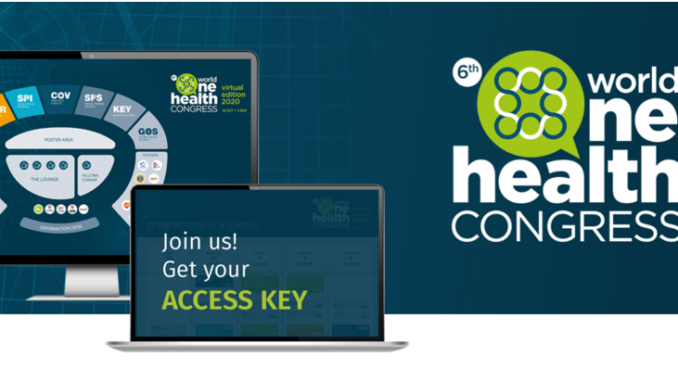 The 6th World One Health Congress is taking place as a "virtual" event between the 30th October and the 3rd November.
COVID-19 has clearly shown why One Health, the core of which is the recognition of the existential interconnectedness of humans, animals and their shared environment, is key to ensuring the healthy and sustainable future of the planet. COVID-19 has shown that a previously unknown pathogen can emerge from a wildlife source at any time in any place and without warning, threatening the health, well-being and economies of all societies. There is therefore a clear need for countries to have the capability and capacity to maintain an effective alert and response system to detect and quickly react to outbreaks of international concern, and to share information about such outbreaks rapidly and transparently.
Responding to pandemic threats requires global cooperation and global participation. Combined with the growing globalization of health risks and the importance of the human-animal interface in the evolution and emergence of pathogens, the only solution is a One Health approach.
In addition, this pandemic has transformed the way scientists and clinicians communicate and share information during a fast moving health crisis. This raises questions on how to deal with "infodemics" or with "bad information"; how to "evaluate" rumours; and how to ensure the benefits of rapid information sharing can outweigh the disadvantages of secrecy.
The congress organisers have put together a comprehensive programme that covers important topics: One Health Science, Antimicrobial Resistance, Science Policy Interface, SARS-COV-2- COVID 19, Special Partner Sessions, and Keynote Lectures. A full programme can be viewed here.
We are happy to announce that two co-investigators and one Sandpit fellow have been invited to represent the project in the form of oral presentations. Please see the below table for further details.
| | | | |
| --- | --- | --- | --- |
| Presenter | Title | Session | Date/Time |
| Prof Jude Robinson | Visible and invisible risks in One Health: exploring washing and hygiene practices with women living on low income in Kenya | Understanding the social context of One Health | Friday 30th October, 14.00 -16.00 CET |
| Dr Tadesse Eguale | Antimicrobial susceptibility profile of selected Enterobacteriaceae in wastewater samples from health facilities, abattoir, downstream rivers and a waste water treatment plant in Addis Ababa, Ethiopia | Surveillance of AMR | Saturday 31st October, 14.00 – 16.00 CET |
| Dr Mark Nanyingi | A One Health multi-sectoral national strategy for Brucellosis prevention and control in Kenya | Operational Frameworks | Monday 2nd November, 12.00 – 14.00 CET |
Alongside the oral presentations, we are also happy to confirm a total of 19 co-investigators, post-doctoral associates, and Sandpit fellows were accepted to represent HORN through their poster presentations. Unlike the oral presentations, the posters will be made available throughout the duration of the event; presenters interact with delegates via direct messaging hosted via the event platform.
To take part in the "virtual" congress, you need to register here. Registration will provide you with an "access key" which becomes active on the first day of the event.