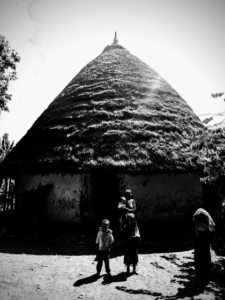 Livestock production is frequently promoted as a pathway out of poverty, however livestock can also be a threat when it comes to zoonotic pathogens. And when you are a woman, you may be the last to benefit from the money or the meat but come first for cooking or milking, which can be problematic if you're pregnant with a higher susceptibility to infectious diseases.
Ethiopia, which has a high level of maternal mortality and undernutrition, but also one of the biggest livestock population in Africa, is a critical place to look at maternal health with a One Health approach.
Our project aims at improving maternal health using a One Health approach by providing a better understanding of benefits and risks related to livestock ownership in a Health and Demographic Surveillance System (HDSS) site in Ethiopia. This study will be nested in a mother-child cohort study led by Addis Ababa University in Butajira HDSS.
We plan to collect additional data in the cohort on:
Women's role in livestock husbandry
Animal source food availability
Knowledge, attitude and practice of women, regarding zoonoses
Prevalence of women and their livestock for a range of zoonoses
We have obtained all ethical approvals to conduct this study in early 2020, unfortunately the COVID-19 pandemic has halted our plans. We hope to be able to start data collection by early 2021.
Additional funding has been obtained to support this work through the Soulsby Foundation. For further information on the Foundation, a blog article and a video are available. To apply for a Soulsby Fellowship click here.
To know more about Butajira, our study site in partnership with Addis Ababa University, read this report about our first visit to the site here