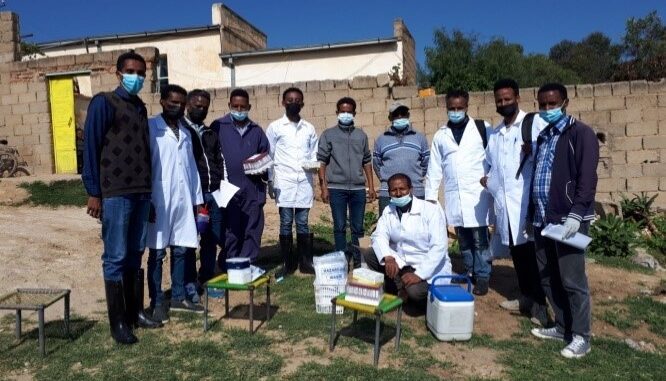 Introduction
Brucellosis a is complicated disease caused by Brucella bacteria, which severely affects both livestock productivity and human health, leading to serious health consequences and high economic damages to the livelihood of the community.
In Eritrea, brucellosis is an endemic disease since its first detection in 1943. Dairy farms are the main sources of infection for human brucellosis. Until the year 2016, the Ministry of Agriculture was attempting to control brucellosis in dairy cattle through applying testing and slaughter procedures. However, for the last five and more years, due to several reasons and financial limitations, there was no formal national brucellosis surveillance study implemented in the country in dairy cattle. Although it should be noted that dairy farms which supply their products to the public are tested for brucellosis at least once a year.
According to the Ministry of Agriculture-NAPHL annual reports of 2015 to 2019, human brucellosis cases and numbers of sero-positivity has steadily increased over time. In other instances, clinical observations and laboratory results are suggesting that the disease is rampant in the country. These suspicions and assumptions however, need to be verified through science-based study.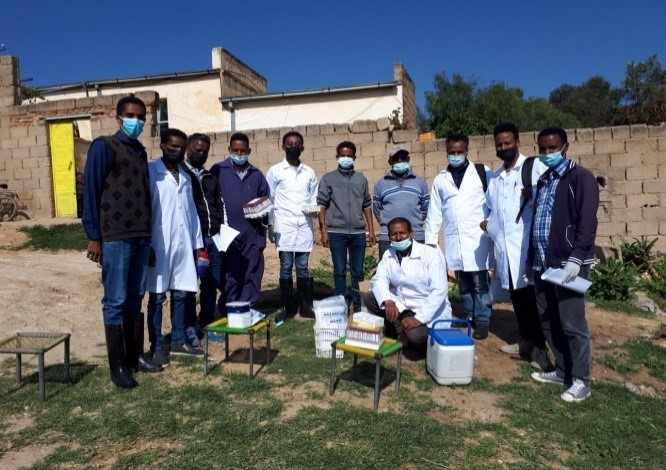 Dairy farmers, family members and farm workers are often at high risk to brucellosis as they often have direct or indirect contact with the animals, their products, and contaminated environments. More than 51% of the country's dairy farmers are found in the Maekel and Debub regions. They are the main sources of milk and dairy products to most consumers residing in these two densely populated regions.
The aim of this study is therefore to investigate and determine the current brucellosis prevalence in dairy cattle and their owners/workers, as well as identify associated risk factors in Maekel and Debub regions. The study will be conducted in 12 selected subregions (4 in Maekel and 6 in Debub region), and will produce updated information on the prevalence of brucellosis and associated risk factors in dairy farms in the study areas.
Specific Objectives of the project
To investigate and determine the current prevalence of Brucellosis in dairy animals.
To investigate and estimate the current prevalence of Brucellosis in dairy farmers/workers.
To identify animal Brucellosis associated risk factors
To identify human Brucellosis associated risk factors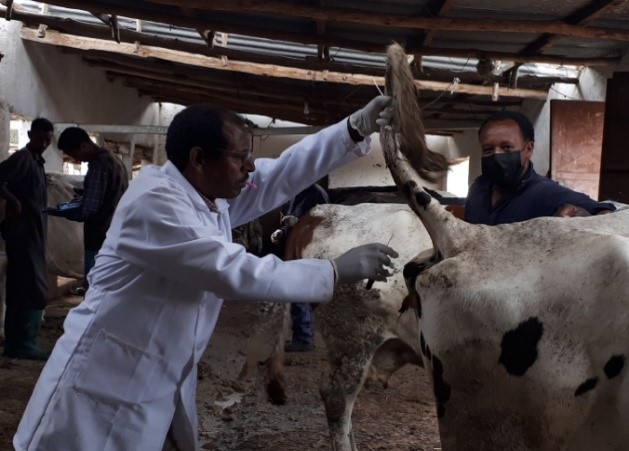 Expected outputs and Benefits
Farmers will know the current brucellosis condition in their farms.
The participant shall be provided with rapid results of his/her brucellosis status without paying for it.
Family members will be safeguarded from brucellosis accordingly.
The community may benefit through improved strategies to control brucellosis.
Based on the result and findings, the Ministry of health and respective regional veterinary officers can design and implement feasible control measures against the disease in animals, as animals are the main source of infection to humans.
Updated information on the study conducted will be published and disseminated.
HORN-Sandpit-2 Event and beyond
This study was granted as HORN-Eritrea-Brucellosis project during the sandpit event 2 in 2019. Three research members and other assistant researchers are encompassed in this research work. During the past two years, due to covid-19 situation and other challenges, its progress was very slow. Lately however, thanks to the firm commitment and support of the HORN-concerned project managers, officers, PI etc, all the documents of the project finalized in 2021 and the fund required for implementation of the project transferred to Eritrea in July/August 2021. Currently, intensive field activities and laboratory testing are being carried out by the research team members, assistants and other concerned participants, in real way they are building up a great spirit of "One Health''.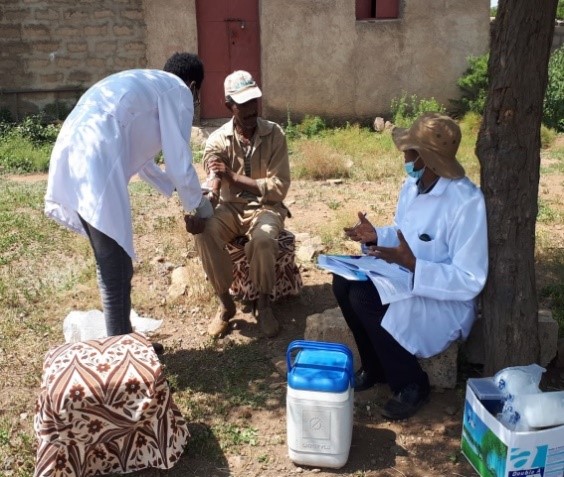 Major component/Activities and current status
 A)Activities in Maekel Region- (August to September,2021 )
Blood samples: a total of 1341 animal and 178 human blood samples has been collected and tested, waiting for analysis.
Questionnaires: a total of 1341 individual animals level, 87 herd level and 175 human level risk factor related questionnaire data has been collected, waiting for data entry and analysis.
B)Activities in Debub Region (September to October, 2021)
Blood samples: a total of 870 animal and 141 human blood samples has been collected  and they are waiting for testing and analysis.
Questionnaires: a total of 870 individual animal level, 69 herd level and 141 human level risk factor related questionnaires datasets have been collected, waiting for data entry and analysis.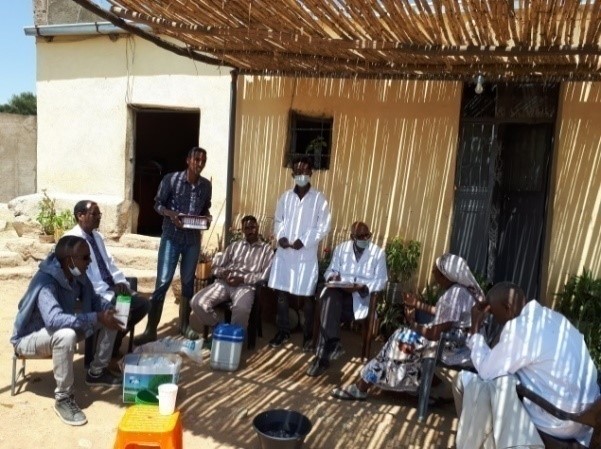 Pending Components /Activities
Blood sample and data collection, field activities, (in Debub region)
Sample processing and recording (Laboratory works)
Data analysis and interpretation (statistical analysis)
Data compiling and report writing (Technical and financial reports)
Writing up manuscript for Article (publishing the findings)