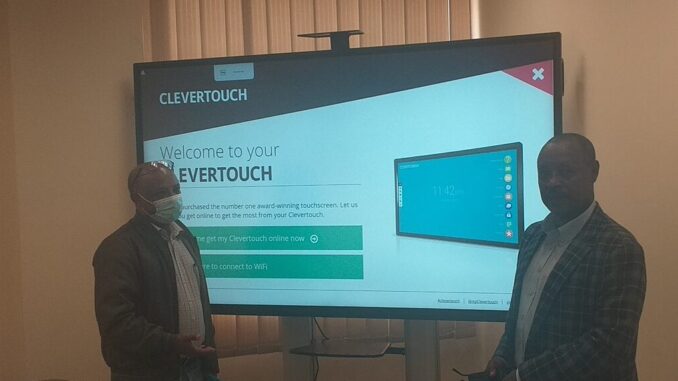 The School of Public Health at the College of Health Sciences, Addis Ababa University (AAU), has recently received a Clevertouch teleconferencing system. Based on the research capacity assessment of AAU, undertaken by the Centre for Capacity Research in July 2018, the HORN project purchased the system as part of its capacity building activity.
Teleconferencing systems are becoming an important tool in academic environments of today. By providing easy global communication, the exchange of skills and knowledge, and the sharing of opinions – all without physically availing oneself in the same venue – have made teaching, the exchange of research work, and student examinations, much easier. The Clevertouch system is a versatile, interactive display that gives educators a wealth of new tools to work with.

The School of public health at the college of health sciences is the pioneer public health teaching, research and community service institution in Ethiopia. In addition to its service courses to different undergraduate health sciences students, there are masters and PhD students that have graduated from the school. Currently there are over 120 active masters and 61 PhD students. With the growing number of students, it is becoming difficult to arrange external examiners to travel to Addis Ababa for thesis defense. The teleconferencing system was sought as an option to invite experts from any part of the world to examine students, and would also improve the school's teaching activities.

During the handover to the school, Prof. Damen Hailemariam thanked the HORN project for their support. He pointed out that "This is a step forward in the school's endeavor to harness what technology offers in its teaching, as well as engaging public health experts from our partner universities in the rest of the world in teaching and student examination".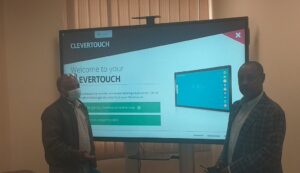 The system has recently been placed in a seminar room, and Prof. Damen Hailemariam promised to connect a PC to the teleconferencing system so that senior staff members only need to bring a USB flash drive for presentations. The room also provides space for seminars and PhD defenses to be conducted, in addition to being able to invite more global experts.