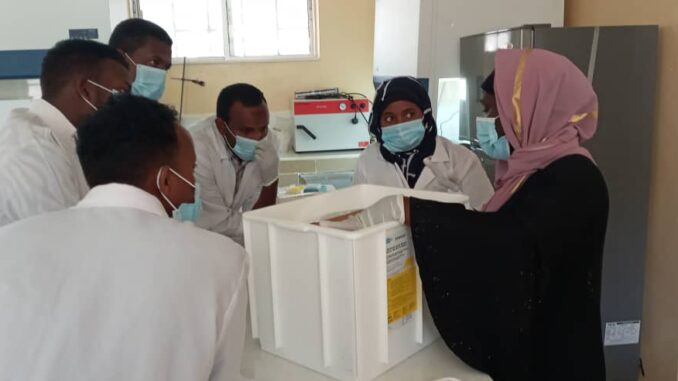 Based in Sheikh in the upper Sahil region of Somaliland, IGAD Sheikh Technical Veterinary School and Reference Centre (ISTVS) is a regional institution aiming to become a center of excellence for the region.
In 2019, representatives from the school participated in the second HORN Sandpit event whereby they received funding to undertake the research project entitled "Investigating prevalence and identifying risk factors of Bovine Tuberculosis in Cattle and Humans in an agro-pastoral community in Awdal region, Somaliland". The first of its kind to be conducted in Somaliland, the school lacked the skills and expertise to carry out such research. The HORN project purchased equipment and provided training so that the research could begin.
Equipment received included BOVIGAM kit, ELISA machine, laptop, refrigerator, generator, incubator, centrifuge and consumables. The BOVIGAM training was conducted by Alice Kiyong'a from the International Livestock Research Institute (ILRI), Kenya, and was participated by three ISTVS staff, two Amoud University staff and a representative from the Somaliland Ministry of Livestock. The broad objective was to develop the practical knowledge of researchers on how to diagnose Bovine TB serologically. The training methodology was 100% practical and consisted of field sample collection, sample processing and result interpretation.
ISTVS and Amoud University are grateful to have the support of HORN project in capacity building and research.