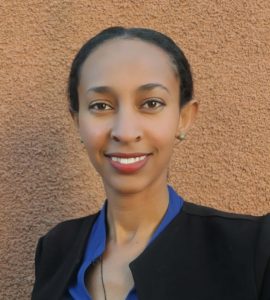 Firmaye is a public health professional who holds a master's degree in public health and works as an acting director and assistant researcher in the knowledge translation directorate of the Ethiopian Public Health Institute.
She has practiced public health for over seven years in clinical, non-clinical, and public health settings. Throughout her professional years, she has worked on adult and child health care, collection and analysis of qualitative and quantitative health data and information, monitoring and evaluation of health programs, and public health research. She is passionate about working on the utilization of scientific evidence for a better health system and the provision of advanced health care.
She is currently involved in leading and executing translation of scientific evidence through the preparation of different translation tools that include systematic reviews, policy briefs, and rapid evidence syntheses for evidence-informed decision making. Recent works she involved in include: Reducing Stunting in Ethiopia: "From Promise to Impact": a policy brief; Effectiveness of wearing face masks and implementation strategies for public use during COVID-19: a rapid review; Effect of Khat on health: a rapid review; Antibody test during COVID-19 pandemic: evidence summary; Rapid & Responsive Evidence Partnership project (six African and five non-African countries).